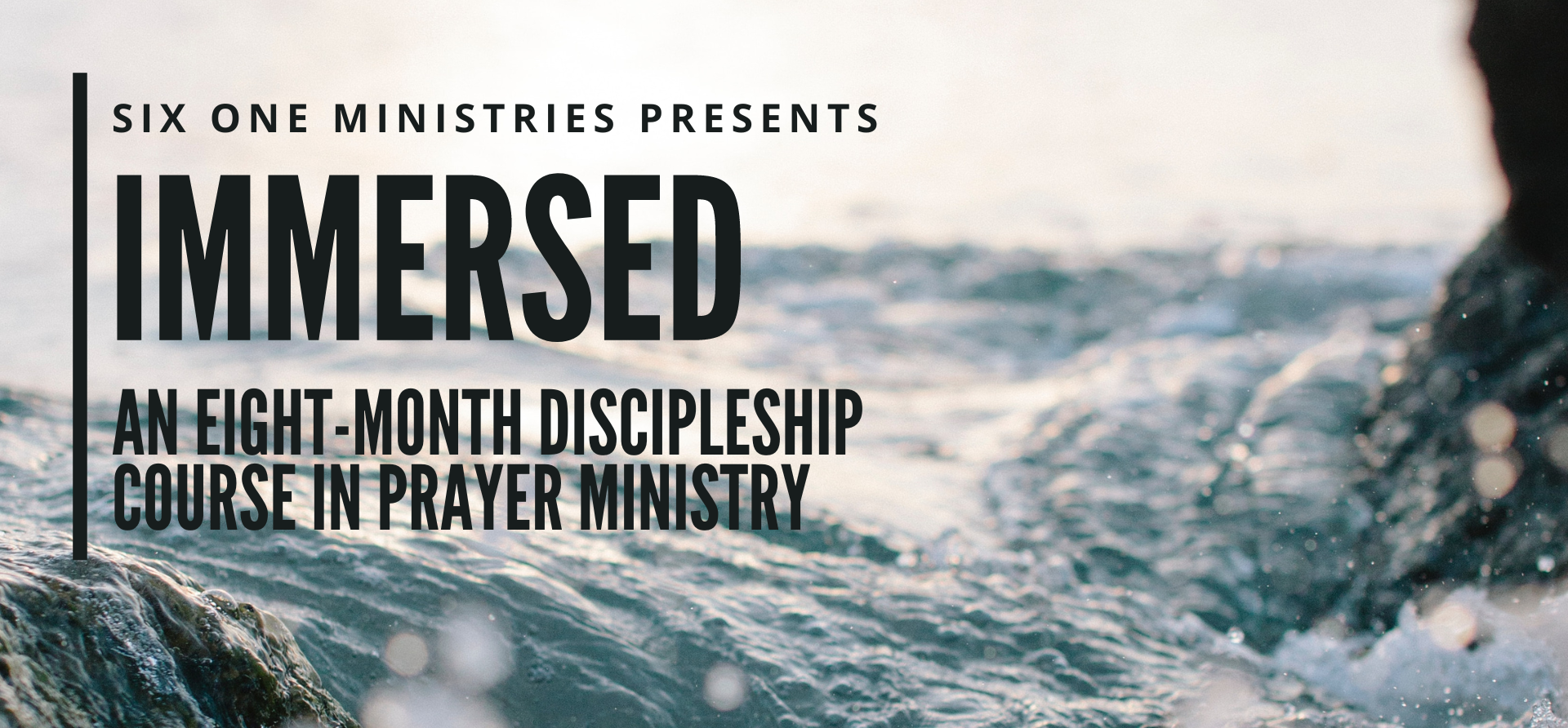 We love offering classes and workshops on all things prayer ministry, but have hungered for something a little different, something new. We believe the Lord has laid on our hearts a desire to walk deeply alongside others for an extended period to see Him submerge His children in the more that we crave.
So, Immersed is more than a class and more than a weekend workshop. It is an 8-month discipleship course in prayer ministry.
We dive deep into your identity and calling, your spiritual gifts, your authority in Christ, spiritual warfare, inner healing and deliverance prayer, healing and prophetic prayer, and how all of this combines in prayer ministry.
This course is ideal for anyone wanting to grow in the area of prayer and relationship with Jesus Christ. It is for those who serve or long to serve in a ministry or church setting. It is also for those who want to know how to pray and go to war for your family and friends, those you meet at the super market, and those you sit beside in bible study or small group.
We intentionally limit the course to a small group of students each year so that we can dive deep alongside and tailor the material to each individual. This course will be highly interactive and full of opportunities to learn, receive, and do ministry together.
Course Includes:
Weekly video teachings and homework to complete at home and at your pace
In-person meetings twice a month (Thursdays from 6:30-9pm)
Three Saturday workshops (scheduled in October, February, and April)
Helping identify and develop your spiritual giftings
Giving and receiving prayer ministry
Extended time of discipleship with Six One team
Schedule and Topics:
September – Awake & Arise
October – Spiritual Gifts
November – Spiritual Warfare & Authority
December – Inner Healing: Part 1
January – Inner Healing: Part 2
February – Deliverance
March – Healing & Prophetic Prayer
April – Go! Front Lines Commissioning
Cost:
$125 per month + books (5)
Applications:
Applications open in July. Follow us on social media and subscribe to our e-mail newsletter to be notified when applications are open!
The Platform is a special access webpage for Immersed participants to receive their weekly video teachings and homework throughout the course. It is the jumping off point for diving deep into God's heart and all things prayer ministry. Immersed participants can access the Platform by clicking here!